Pump Sales & Services
Munster Drilling. designs and installs the correct pump system for your water needs. Whether it is the installation of a new pump system, service on an old pump system or you have no water, our fleet of repair service vans is like a shop on wheels. They are fully stocked and ready to solve your water supply problems. We service all types of well pumps (submersible and jet pumps) and provide Emergency Service 365 days a year.

Our customer service, years of combined experience, fully stocked Vans and our top notch technicians is what makes Munster Drilling stand apart from the rest.
Preventive Maintenance
We recommend that you have your tank system serviced every 3 years.
The pressure switch is replaced and adjusted.
A new pressure gauge is installed.
The Pressure tank is checked for proper air pressure.
Well pump is checked for voltage, amperage & ohms to check performance.
The integrity of the well cap will be checked.
Low Water Pressure
There are many variables to consider when determining the cause of low water pressure.

Please call us on (029) 51 763 or (087) 997 0582 and a Munster Drilling representative will the take the time to ask you a few questions to help determine what type of service is necessary for your system.
Filter Sales & Service
Munster Drilling provides a wide range of water treatment systems to solve Iron, Manganese, Limescale, PH, Bacteria, Nitrates, Arsenic, Chlorine and Rotten-egg smell problems.

When treating city or well water the goal is usually to eliminate odours, staining, sediment or potentially harmful contaminants.

The following is a list of the most common water quality concerns we hear daily: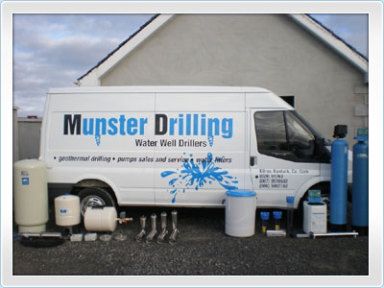 Blue/Green staining on household fixtures
Brown/Black staining on household fixtures
Orange/brown staining laundry & on outside fixtures
Sediment and limescale build-up in taps, shower heads and washing machines (causing low flow)
Rotten-egg smell from one or more locations in the home
Calcium build up or a white powdery material on faucets and fixtures
Whether you have an existing water treatment system or in need of a new one, our staff can recommend the service necessary or a new system for your water needs. We begin by performing a series of onsite tests to help determine the presence and levels of various minerals in your water. If health related contaminants, such as arsenic and radon are a concern to you, we take a water sample to a certified laboratory for proper measurement. This allows us to size a system according to the level found by the laboratory so we can ensure these contaminants are reduced and in some cases eliminated.
Have us install an appropriate pump for your water today.